Golden Age Center
Doings at the Golden Age Center


Nike Base Trails


All other photos from Delaware Park Rose Garden.


Enjoy Mother Nature and the beautiful summer days by walking the Nike Base Trails! These trails have been lovingly cleared & manicured by the Recreation Department for all to enjoy. Stop by and see all that's new and happening on the Nike Base. (top photo)
On Wednesday, June 15, we had the opportunity to check out the Beauty in the Blossoms! We took a guided tour of the Delaware Park Rose Garden, led by our Golden Age Center member Jakob Jung, and took a stroll through the Japanese Rock Garden. We finished our stroll cooling off at Wegmans, over a nice lunch together. We are proud to live in such a beautiful community with so much to see and do! (all other photos).




We just wrapped up our second season of hosting University Express presentations at the Golden Age Center. Over 300 people attended our nine University Express presentations this Spring. We thank our incredible presenters for presenting such interesting topics to us! We look forward to continuing our University Express presentations in the fall. Keep your eyes open for the Fall Catalog, coming out in September!



Click photo for larger view.
Photo taken by Recreation Attendent Liz Wilbert at entrance to Golden Age Center.

Thermo Fisher Scientific Visit


Our friends from Thermo Fisher Scientific volunteered their time at the Golden Age Center to serve all members their delicious lunch of Breaded Chicken Cutlets, Scalloped Potatoes, and Mixed Vegetables. What a wonderful treat for all members to enjoy! Our friends from Thermo Fisher spent time socializing and getting to know our members, brought a gift to each member, and spent the afternoon running special Bingo games, complete with prizes for all to get the chance to win. Special thanks to Juliet from Thermo Fisher for organizing the volunteers and for putting together such a wonderful day for us all. Thank you, Thermo Fisher!


Songwriter Carolyn Laskay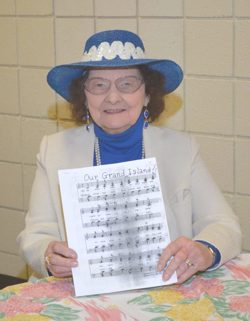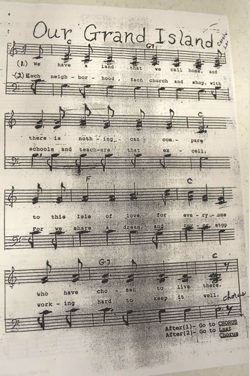 Carolyn Laskay with her music. - Photos by Mary Stewart
Golden Age Center member Carolyn Laskay came to Grand Island in 1957. She loved her new home and in 1991, decided to put down on paper her feelings for this island she now lived on. The song and lyrics she penned came to life on Wednesday night, April 27th, when she was honored by having her composition, "Our Grand Island", included in the Kaegebein School spring concert program. Carolyn's mother, Twila O'Malley, was also into music and started the Golden Age Center's chorale in the 1980's. The GAC held their potluck dinner the night of the concert and many members attended.


Flowers From an Angel


A special angel and special friend of the Golden Age Center brightened up our tables with these beautiful, springtime arrangements! These blossoms smell so fragrant and make our Dining Room look as if it's full of sunshine! A special thank you goes out to our special friend for his or her love and kindness. Your kindness put smiles on to the faces of our members!

Activity Center Hours

Golden Age Center GOLDEN GUIDE.
A guide to let you know all the services your Golden Age Center has to offer. All Grand Island residents, 50 years of age or older are welcome to attend. We offer a hot meal program daily.

Transportation Guide

Membership Application