Golden Age Center
Doings at the Golden Age Center

Attention, Grand Island! We are happy to be open on Election Day, Tuesday, November 8, to provide programming, our home-cooked lunch, services, and most importantly, transport senior citizens to vote. Please call (716) 773-9682 for more information and to make an appointment to be transported to the polls to cast your vote. Make each vote count! Call us today.

Meals on Wheels is offered to our senior citizens that are homebound, elderly, and ill. In 2015, with the incredible help of our volunteers, 4,959 meals were delivered in 2015 to our homebound seniors. Is this a need for your loved one? For your neighbor? For your friend? Please call us at (716) 773-9682 to further discuss any questions you have about Meals on Wheels with our knowledgeable staff. Meals on Wheels Application

Holiday Happenings - October 2016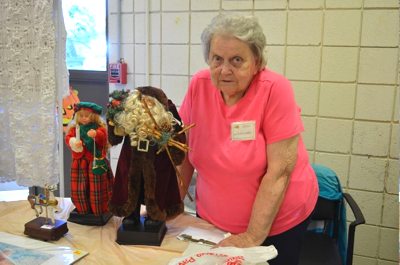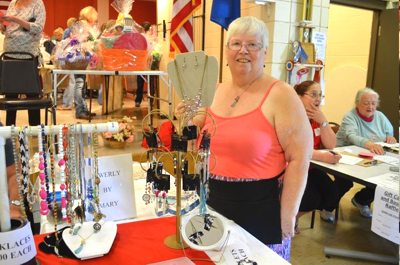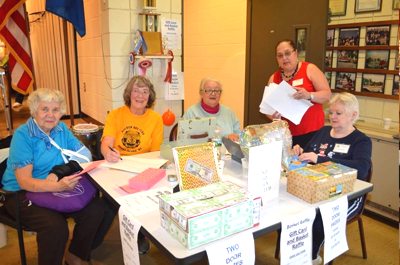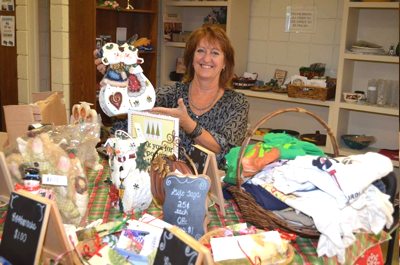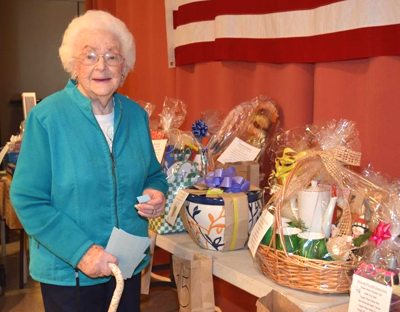 This year's Holiday Happenings at the Grand Island Senior Center was a big success. Fifteen crafters provided an array of hand made items. The event included 163 baskets and gift cards that were raffled. Not only did Grand Island merchants, and individuals donate but several others in western New York supported this year's event. A drawing for the door prize and 50-50 was also held. There was lunch served and a lot of homemade baked goods to take care of that sweet tooth. A big thank you goes out to all those who donated items and helped in any way to make the center's Holliday Happenings one of the best.

Island Ship Center Hosts Seniors - September 2016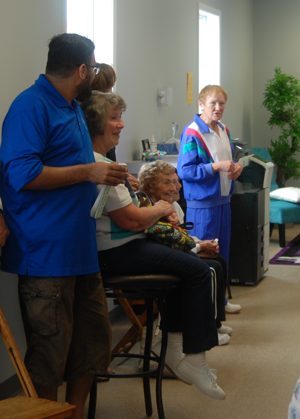 Betty Kogler is one super satisfied customer.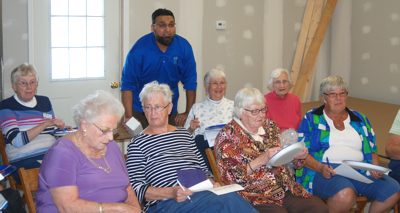 Fahim is getting the seniors ready for Shipping Terms Bingo. Fahim and Seema Mojawalla of Island Ship Center hosted over 2 dozen Golden Age Center members on Wednesday, September 28th at the newly renovated store. The "Celebration of Gratitude" field trip began with super satisfied customer Betty Kogler telling the group about all the ways the dynamic duo help her with her shipping, copies and gifts. The group then moved over from the mailbox room to the shipping storeroom for refreshments and games with prizes such as a Grand Island sweatshirt, Bills pullover and a new item, light up key chains with Grand Island etched into them, that double as a holiday ornament! Fahim had everyone laughing over his antics and one liners, no wonder the business is doing so well!



Grand Island Classes
We are pleased to be able to bring University Express classes back to the Golden Age Center for a third semester! We have (8) great, FREE classes coming to the Golden Age Center this fall. See complete WNY University Express Class List.

Age Friendly Erie County Project Inventory



Happy Birthday, Bernie Callahan! Bernie Callahan celebrated her 97TH BIRTHDAY this past Saturday! Golden Age Center members wore bright colored leis, a special birthday balloon was presented to Bernie by her friends, and members sang "Happy Birthday" to her to celebrate the day. She made a great wish and enjoyed cupcakes to celebrate this milestone, momentous birthday. Enjoy your birthday to the fullest, Bernie!



Stop by and join one of our 35 consistent programs offered at the Golden Age Center every week! Above, our Tai Chi group practices this gentle exercise at 9am on Mondays and Fridays. Learn something new and try something new!



Mahjong is a game that originated in China, and it's a game that requires some skill, strategy, calculation, and a bit of chance! Our Mahjong group has been getting together on Fridays at 12:30 p.m. to play, and they are always looking for more players to join them & to teach them the game!

There's something for everyone at the Golden Age Center.



Golden Age Center members took a Summer Stroll on the River Lea Trail in Beaver Island State Park. Paul Leuchner was kind enough to give us an eco-tour around the trail, the Bird Viewing Path, and the East River Marsh area. Mary Cooke joined us for the hike and gave us the history behind the River Lea & River Lea path. 10 friends enjoyed the stroll together in the 90 degree heat!




Nike Base Trails


Enjoy Mother Nature and the beautiful summer days by walking the Nike Base Trails! These trails have been lovingly cleared & manicured by the Recreation Department for all to enjoy. Stop by and see all that's new and happening on the Nike Base. (top photo)


Activity Center Hours

Golden Age Center GOLDEN GUIDE.
A guide to let you know all the services your Golden Age Center has to offer. All Grand Island residents, 50 years of age or older are welcome to attend. We offer a hot meal program daily.

Transportation Guide

Membership Application Meals on Wheels Application